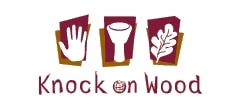 Padded Bag in 3 depth options for Caixa snare drums with 12 inch heads.
Product overview
Deluxe Padded Caixa Bag for 12" drums
Pocket in the top for spare skin
Side pocket for other accessories. (Key, straps, mobile)
Black nylon exterior with woven Knock on Wood logo
Available in 3 for drums for the following sizes
12" x 10cm

12" x 15cm
12" x 20cm
Delivery & returns
Deliveries

UK delivery starts at £1.95 and goes to a maximum of £5.95 (excluding Highlands & Islands which can be more for a parcel)

Free Delivery over £95 - This applies to orders delivered to the UK mainland only and (excludes Highlands & Islands)
We aim to ship upon of receipt of an order, subject to stock availability.
View our full delivery policy here.
Returns
Once the item has been despatched it becomes your responsibility to return an order or item in an unmarked and resaleable condition before we can issue a refund to you. Please note that return postage charges cannot be refunded unless the product is faulty or not as described. Also please note that this only applies to individual customers.